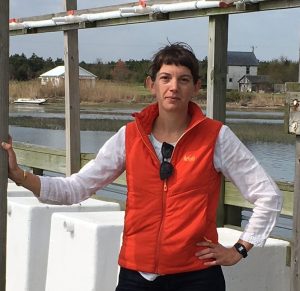 Effective April 9, 2018, Dr. Cora A. Johnston has  taken on the role of Site Director for the Anheuser-Busch Coastal Research Center.   She will also direct the Education and Outreach programs, with assistance from Donna Fauber.
Cora is a coastal ecologist, who recently completed a post-doctoral research appointment at the University of California – Santa Barbara. She comes to us with an impressive combination of collaborative and leadership skills, ecological research experience, and training in STEM education and outreach.
Cora grew up on the Eastern Shore, and so has a strong sense of place for the ecosystems and people of the region.